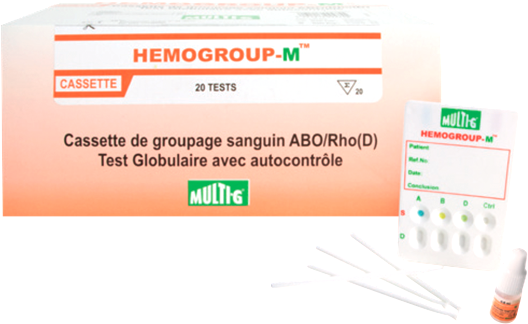 Hemogroup-M is an easy-to-use rapid ABO/RhD blood grouping kit that can be used both in hospital as in remote areas. It provides reliable results in a matter of minutes.
"Hemogroup-M comes just at the right time for us, yesterday we had yet another blood group incompatibility accident after transfusion, and we lost the patient. With Hemogroup-M we will be able to prevent these accidents. We need to take action about this and raise our transfusion security standards"
- From a National Blood Transfusion Services Director.
"Hemogroup-M is very reliable and accurate. Our validation study over two months in the Southern Zone over 300 blood samples has established that Hemogroup-M's perfomance is 100%, ABO discrepancy is 0%, defective cassettes is 0%, and the average time saved is 11 minutes per procedure. One of the main advantages of Hemogroup-M for us, given the lack of equipment and sometimes the lack of electricity altogether in certain areas, is that we can use Hemogroup-M anywhere."
- From a Tanzania NBTS officer
"Hemogroup-M" is ideal for us as we serve populations in remote areas where electricity is not or not always available, equipment is often missing or not working properly, reagents are not always available or stored properly to guarantee reliable results. This is why we have decided to use Hemogroup-M in our community health centers in the Southern Region of Congo."
- From the Managing Director of a private network of community primary care centers.
"Because we are determined to improve blood transfusion safety in Togo, we have worked closely with the Minisitry of Health at the highest level, and reached the decision that Hemogroup-M should be delivered with each blood bag of each transfusion in Togo. as a matter of fact a decree was issued to make sure this is enforced by all stake holders. Hemogroup-M allows us to confirm donor-receiver ABO compatibility at the patient's bedsite with the highest level of reliability, at a very affordable cost, and in a very easy manner. Training has been very easy and Multi-G has helped us significantly and is still accompanying us in the field until all our staff is trained and fully confident"
- From a Blood Transfusion Services officer in Togo
"Hemogroup-M has unique features such as the integrated auto-control validation process which guarantees the validity of the result. This was a key element for us because safety is first. The auto-control in Hemogroup-M allows to identify false results in such cases when the blood coagulates and agglutinates to the test strip by itself instead of agglutinating because of the reagent." NBTS official in Burkina Faso.
MULTI-G is a Belgian company operating in Africa. Founded in 1990 at the initiative of a pharmacist, Mr Gady Zohori, MULTI-G specializes in the marketing of pharmaceutical products. MULTI-G works in partnership with, on the one hand, state purchasing offices and, on the other hand, with the network of wholesalers which in turn provide hospitals and pharmacies with MULTI-G medicines and medical devices.